Functional Movement Strategies for the
Legs, Knees & Feet
Understanding Relationships & Optimizing Exercise
PTs, PTAs & ATCs
16 Hours/CEUs
Course Description
With an emphasis on immediate clinical application to orthopedic knee, lower leg and foot dysfunction, this fun and interactive movement lab introduces ways of making the exercises we use more informative, more functional and much more effective. Discover how poorly organized movement in the hips and pelvis contributes to localized down-chain musculoskeletal pain, how to facilitate better patient motor planning and how movement changes in response to traumatic lower extremity injury. Gain a more dynamic perspective on human movement and be more creative in how you teach exercise, lower extremity alignment and function. Many knee, ankle and foot pain syndromes or repetitive stress injuries are a result of faulty lower extremity mechanics, while faulty mechanics will arise secondary to traumatic injury—both should be treated with an integrated exercise and proprioceptive self-awareness training program. In this course, you will participate in integrated movement exercises that focus on the relationships between feet, knees, hips and pelvis—then analyze the movements for clinical relevance and contrast with a traditional therapeutic movement model. This approach to studying movement (dynamic/alive vs anatomical/cadaveric) makes you a better practitioner by improving your fluency in the universal language of movement—proprioceptive awareness and choice-based motor habit optimization. Come experience a refreshing new perspective, you will never see movement and exercise the same way again!
Course Objectives
By the completion of this course, the participant will be able to:
Define Regional Interdependence & Specificity Principle
Identify long-term habitual movement and postural mistakes and correlate to plantar fasciitis, anterio/lateral ankle impingement, achilles tendinosis, anterior knee pain, ACL surgery, TKR, meniscal tear, hamstring strains and more
List three primary differences between Static Integration & Dynamic Integration exercise
Define the difference between Global & Differentiated movement or postural patterns—list two examples of each in the knee, ankle and foot
List three principles of Optimal Movement and give examples of common knee and lower extremity clinical presentations resulting from sub-optimal movement
Explain the benefits of informational exercise strategies—use of constraints, change of venue, reciprocating movements, goldilocks principle and link to functional context
Course Outline
Lab sessions include experiential movement, partner observations, facilitation techniques, modifications & discussion of clinical relevance.
Day 1
7:45-8:00—Registration & Snacks
8:00-9:45—Introduction to Integrated Movement
Comparing Dynamic & Static Integration Movement Principles
Language of Integrated Movement: Global & Differentiated Relationships
Principles of Optimal Movement: Looking Beyond ROM & Strength
9:45-10:00—Morning Break
10:00-12:00—Lab I: Medial/Lateral Lower Extremity Relationships
Asleep at the Wheel Syndrome: Repetitive Stress Injuries & Pattern Recognition
Manual Facilitations: Peroneus Longus & Posterior Tibialis Awareness
Rotational Knee/Foot Alignment & Stabilization: Movement Reciprocity & Pattern Specificity
12:00-1:00—Lunch on your own
1:00-3:00—Lab II: Anterior/Posterior Lower Extremity Relationships
Simulating Push-Off: The Gluteal-Hamstring-Gastrocnemius Cascade
Ankle/Toe Differentiations & Link to Hip Push Off Muscles: Shin Splints
Knee Hyperextension Control: Manual Facilitations & Positional Progressions
3:00-3:15—Afternoon Break
3:15-5:30—Lab III: Finding & Maintaining the Tripod Foot
Kinematic Linkage: Hip Control of Knee Valgus & Foot Pronation
Hip Abductor/Peroneus Longus Synergy—Hip Adductor/Posterior Tibialis Synergy
Knee Rotation Control: Manual Facilitations & Awakening the Hamstrings
Day 2
8:00-9:45—Lab IV: Pelvic Force Couple Competence & Balance
Cross Pelvic Synergies: The Pelvic Force Couple
Recognizing PFC Bias & Effects Down-Chain
Alternating 3-Dimentional Hip Movements: Push Off & Landing
9:45-10:00—Morning Break
10:00-12:00—Lab V: Up/Down Stairs & Inclines
Patellar Tracking & Compression Control
Knee Valgus Control: The Goldilocks Principle & Introduction of Error
Proportional Use of Synergists & Fascio-Skeletal Weight-Bearing
12:00-1:00—Lunch on your own
1:00-3:00—Lab VI: Medial/Lateral Knee & Ankle Stabilization
Distal Stability & Proximal Mobility: Reversing Origin & Insertion
Upping the Ante: Increasing Specificity, Complexity, Speed & Demand
End-Game Rehab for Traumatic Injuries: Ankle/Knee Sprains, Fractures & Surgeries
3:00-3:15—Afternoon Break
3:15-5:00—Lab VII: Walking, Running, Pivoting & Cutting
Drills, Progressions, Putting it All Together
Proportional Use of Synergists: Hamstring, Hip Flexor & Adductor Strains/Tears
5:00-5:30—Wrap Up
Review & Reinforcement of Course Objectives
Research, Questions & Answers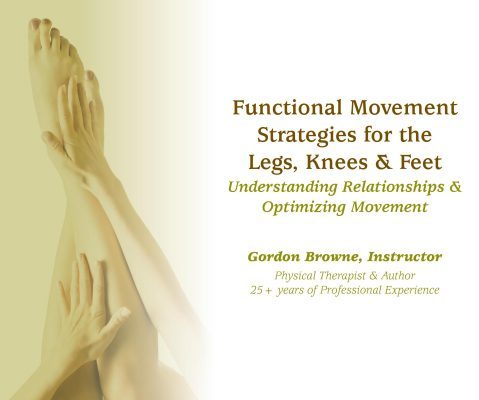 State Approvals
We submit all our courses for continuing education approval in the state in which it is being held, if required. For more information please visit our State Approvals page
Registration Fee
| | |
| --- | --- |
| Single Registrant | $425 |
| 2 to 4* | $405 |
| 5 or more* | $370 |
*Price per person when registering at the same time. Please call if paying separately.
Testimonials
"Excellent, as always! You're my first choice in con ed courses, you never disappoint!!"
"Great way of bringing awareness to stability of the legs and feet. It was awesome, thanks!"
"I really enjoyed this course, mostly lab vs sitting all weekend! Outstanding information and excellent instructors."
"Great content and love the course videos. Looking forward to taking all of your courses!"
"Plenty of hands on active learning, great explanations and complimentary to my practice. Loved it!"
"I had a great time and learned lots!! I'm moving so much better it's amazing. Thank you so much!"
"Gordon and Julie are a great team! They complement one another and create the perfect learning environment."
"Great content both personally and professionally, what a bonus!"
"A really fun course packed with great information, very creative!"
"Great presentation, Gordon made learning this stuff fun!"