Optimal Movement Strategies for Seniors
Linking Functional Exercise & Dynamic Integration for Improved Outcomes
PTs, PTA, OTs & COTAs
15 Hours/CEUs
Course Description
When working with our senior population, we have much to do in a limited period of time. This course will help you maximize your time and improve patient outcomes through exercise prescription and neuromuscular facilitation techniques that are more contemporary, informative and functionally relevant. Gain fresh new perspectives on progressive transfer training, balance and postural improvements, gait and stairs facilitation, skin protection, bending and reaching. Content features Dynamic Integrative Movement Principles & Specific Motor Control Exercise (SMCE), providing creative and innovative new ways of improving functional movement and independence in your patients. You will experientially explore Integrative Movement Patterns and contrast these with common, dysfunctional patterns, then learn to utilize cutting-edge teaching strategies and concepts to progressively facilitate specific motor skill acquisition. Use these Optimal Movement Strategies with orthopedic surgeries or injuries, neurological conditions, musculoskeletal complaints and the "weak and wobbly"—in the hospital, SNF, and home health settings or while working with active seniors in outpatient care.
Course Objectives
By the completion of this course, the participant will be able to:
List three key differences between Static & Dynamic Integration exercise
Explain the concept and the importance of Teaching to the Test—linking therapeutic activities and exercise to Medicare guidelines to reconcile payer requirements with a patient-first practice model
Define Global & Differentiated movement patterns and give two examples each from lower extremities, upper extremities and spine
List and explain a key characteristic and a key benefit of Specific Motor Control Exercise; Pattern Specificity and Pattern Recognition
Explain the benefits of Teaching to the Tools— using environmental affordances and everyday tools to make exercise functional—use of bowls & broomsticks, stools & stairs, towels, sinks and more
In prescribing exercise for seniors, list one benefit each for the following teaching techniques—reciprocating movements, application of constraints, change of venue and the goldilocks principle
Demonstrate Language & Manual Cueing for optimal movement training through partner observation and partner practice
Course Outline
Lab sessions include experiential movement, partner observations, facilitation techniques, modifications, discussion of clinical relevance and documentation considerations.
Day 1
7:45-8:00—Registration & Snacks
8:00-9:45—Introduce Concepts: Senior Specific Interventions
The Medicare Challenge: Documentation Requirements & Treating Effectively
Multi-Tasking: Teaching to the Test & Providing Appropriate Care
Principles of Dynamic Integration: Global & Differentiated Patterns
9:45-10:00—Morning Break
10:00-12:00—Lab I: Horizontal Movement Patterns
Training the Hips to Move the Pelvis: Supine and Side-Lying
Integrating Upper and Lower Body: Log Rolls and Rotation
Link to Functional Context: Rolling, Bed Mobility and Skin Care
12:00-1:00—Lunch on your own
1:00-3:00—Lab II: Sitting Movement Patterns
AP Balance Reactions: Hip Flexor/Extensor Training and Trunk Control
L/R Balance Reactions: Early Pelvic Force Couple Training and Rib Mobility
Link to Functional Context: Sitting Posture, Breathing, Reaching and Skin Care
3:00-3:15—Afternoon Break
3:15-5:00—Lab III: Transitional Movements
Transferring Weight to Feet: Back Extension and Hip Flexion
Transitioning Sit to Stand: Hip Extension with Stable Back
Link to Function: Sitting and Standing Posture, Bending, Transfers
Day 2
8:00-8:15—Review
8:15-10:00—Lab IV: Standing, Weight-Shifts & Turning
Transferring Weight L/R and Front/Back: Intermediate Pelvic Force Couples
Trunk Control and Balance Reactions: Integrating Upper & Lower Body
Link to Function: Balance/Fall Prevention, Hip & Knee Stressors, Chores
10:00-10:15—Morning Break
10:15-12:15—Lab V: Stepping Movements
Single Leg Stance and Stepping: Facilitating 3D Hip Competence
Diagonal Bending and the Texas Two-Step: Advanced Pelvic Force Couples
Link to Function: Balance/Fall Prevention, Floor Transfers, Gait/Stairs/Curbs
12:15-1:15—Lunch on your own
1:15-3:15—Lab VI: Upper Extremity Themes
Integrating Arms, Shoulder Girdles and the Torso: Getting Ribs Involved
Upper Extremity Internal and External Rotation Patterns
Link to Function: Balance/Fall Prevention, Reaching/Lifting/Carrying
3:15-3:30—Afternoon Break
3:30-5:00—VII: Continued UE Themes and Wrap Up
Upper Extremity IR/ER Patterns & Fine-Tuning Progressions
Review Objectives, Questions & Answers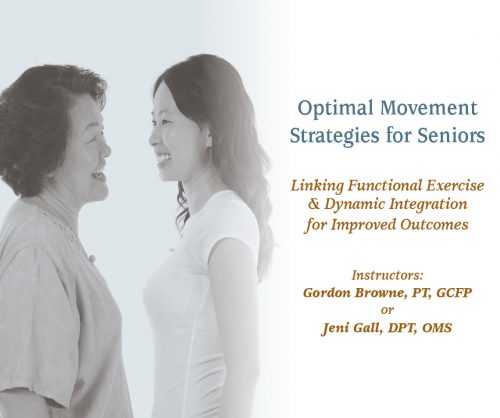 State Approvals
We submit all our courses for continuing education approval in the state in which it is being held, if required. For more information please visit our State Approvals page
Registration Fee
| | |
| --- | --- |
| Single Registrant | $425 |
| 2 to 4* | $405 |
| 5 or more* | $370 |
*Price per person when registering at the same time. Please call if paying separately.
Testimonials
"Great course—I look forward to attending more! It was perfect."
"Jeni was fun, speaks very well and is great at teaching us how to teach to our patients."
"Great practical application to seniors, loved all the diagonal movement patterns."
"Presenter did a good job of breaking down the material. Good stuff for functional mobility and self-care with seniors."
"Excellent presentation, objectives were clear and concise and great visual representation of movements."
"It's an amazing course! Learned so much and will definitely apply it in my practice!"
"LOVE, LOVE, LOVE this course! Thank you so much."
"The instructor was fantastic, thank you Jeni! Very engaging, her enthusiasm was wonderful."
"Great new outlook and variations of previously overlooked techniques and muscle use! I'll use this material with stairs, sit to stand and floor recovery."
"Great class, great resources, great instructor!"